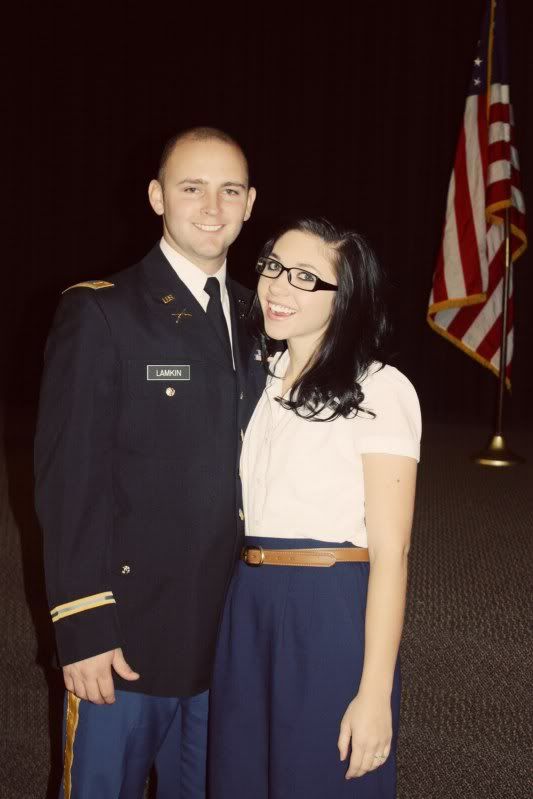 There was a moment right after Jordan and I got married that I got really bitter and jealous of my other married friends. I was the first of several friends to get married in 2010 and within the first two months of being married, I found myself already having been separated from Jordan for two weeks. I was becoming increasingly upset that none of my married friends had to deal with separation from their husbands. I didn't know why it had to be me, why did I have to deal with long periods of separation? Well I quickly realized, why not me? All of my other friends will have struggles in their marriages, things they might say, "why me" about. There is no reason why this should not be one of our struggles.

We recently found out that I will not be going with Jordan to Georgia while he completes his officer training this summer. Four months apart. I have had

several

people (women) express their sympathy, which is very nice but then they say, "I don't know how you do it,

I couldn't do it

." I would just like to say, to all wives, you

could

do it. I dont know why a lot of women think "military wives" are somehow magically stronger or more able to handle their husbands leaving. We're no more able to handle it than other women.

"I dont know how you do it..."

...Well I do it because I have to. This is my husband's job and this is what comes with it. You take what life throws at you and you adjust to it. I know people are just trying to give their sympathy but it kind of upsets me when they tell me "I couldn't do it." Yes, you could. You would do it by finding other things to occupy your time, by surrounding yourself with people that will bring you comfort and joy. You would do it with lots of prayer and constant phone calls to your spouse. I didn't

seek out

a military man to marry because I knew I could handle him leaving. I just happened to find a military man, and then learned to adjust to his schedule. Four months seems like a long time to be apart in only your second year of marriage. But when I look at my Mother-in-law, who is currently dealing with my Father-in-law's year long deployment, I feel like I cannot even complain. Or the fact that my own Mother dealt with my Father's absence in Korea for a year, all while taking care of two small children. Four months doesn't seem so bad after all.

Everything will be fine. And when September rolls around, Jordan and I will be all googly eyed over each other again.

Absence makes the heart grow fonder, right?